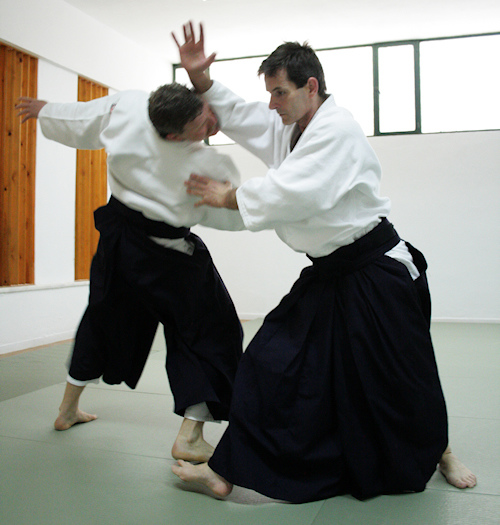 EAMONN DEVLIN, the General Secretary and Technical Advisor of the Aikikai of Greece, started training in Aikido in 1982 at the Trinity College Dublin dojo in Ireland under Ken Gannon. In 1985 he moved to Birmingham, UK, and continued training under Chris Mooney. While in the UK he was fortunate to be able to participate in many of the British Aikido Federation national seminars with teachers such as Yokota sensei, Kanai Sensei, Ikeda Sensei, Hosokawa Sensei, Fujita Sensei, Sekiya Sensei, and Yamaguchi Sensei.
From 1986, with the formation of the United Kingdom Aikikai, he trained under the technical direction of Sensei K. Chiba. Also in 1986 he visited Greece for the first time, participating in some of the earliest Aikido seminars at the Athens Polytechnic dojo with C. Mooney Sensei, M. Kanetsuka Sensei, and T. Ezra Sensei.
In 1990 he moved to Greece and started teaching Aikido at the historic Budokan dojo in Ambelokipoi. In the following years, the early 90's, the Aikido of Athens dojo, under his direction, organised many seminars in Greece with teachers such as K. Gannon Sensei, C. Mooney Sensei, N. Chiesa Sensei, J. Nour Sensei, as well as collaborating in the organisation of seminars with M. Kanetsuka Sensei and T. Ezra Sensei.
He has taught at seminars in Spain, France, Ireland, Italy, and the U.S. In addition to Aikido, he studies Toda ha Buko ryu naginata jutsu with Ellis Amdur, Shihan of THBR, in which he holds the rank of Okuden.